29.04.12
200 Reasons Not to Leave Dublin
Rappelez-vous, il y a quelques temps, j'ai posté plusieurs billets sur "200 Reasons to Stay in Dublin", et récemment une nouvelle liste vient de sortir, "200 Reasons not to Leave Dublin" sur TotallyDublin.ie !
En tête de liste, pour moi, je mettrais ceux-là :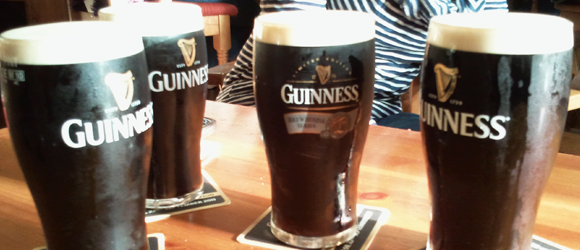 4. Pints of Guinness
Wait for it. Watch it swirl around. Grow a moustache, so that when it's finally settled, you can dip it into the creamy head, sip and then give your opinion on the pint in the specific establishment in which you're sat. There is a difference, you insist.
5. The Iveagh Gardens
The only city centre park that seems to enforce some kind of nebulous door policy, the Iveagh Gardens are the other good thing the Guinness family gave to the city.
6. Temperate climate
It might be too wet all the time, but it's never too hot or too cold, really. Your skin can't take the sun anyway.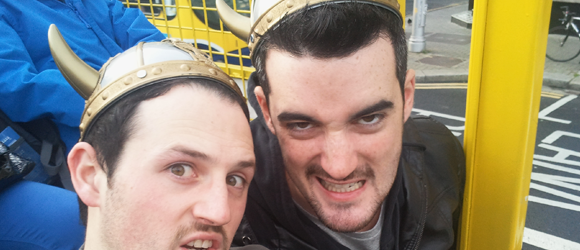 15. Vikings
Dublin was founded by angry Norsemen who needed somewhere to park their boats for the winter so they could rest up for another summer of stealing gold and burning monasteries. That's way cooler than pilgrims.
21. The Golden Age Of Irish Music
It might be the recession or it might be the fact that every teenager in the country was bought an instrument during the Celtic Tiger. Either way, homegrown bands have stopped worrying about major label deals and started doing something special.
22. Watching live television while on Twitter
As a nation of begrudgers, there's no better medium for us to unleash pithy remarks at a rate of three per minute without getting punched than Twitter, whether X-Factor or World Cup.
24. Never far from green space
If you choose a direction and drive for twenty minutes, you're likely to encounter livestock, regardless of where you are. Dublin is a good city for agoraphobes.
26. A proper fry
There are occasions on which nothing else will do but exactly the type of fry-up your mother used to make. To go without proper rashers and sausages is to risk loss of sanity.
31. The Docklands
Representative of Tiger folly in some respects, the Square's rapid red and green lights, the Theatre, and some really awesome cafes are still a huge improvement over burnt-out mattresses on Misery Hill.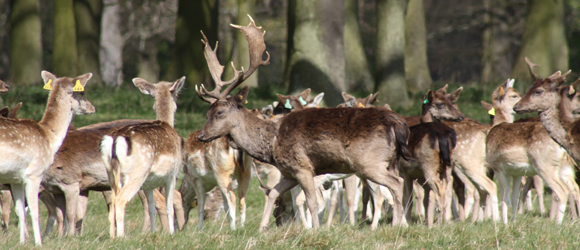 46. Phoenix Park
Walk your dog, go deer-spotting, play football or Frisbee, roll down the Pope's Cross while shouting "such happiness I have never seen", hang around the American embassy until men in sunglasses move you on. The possibilities are endless.
56. Stephen's Green on a sunny day
For centuries, tired city folk have taken to the grass in Stephen's Green to rest and take in the warmth. There is no better feeling.
57. Trinity College
Forget about the Book of Kells. Turn left before the Dining Hall in Front Square for a tiny cemetery full of ghosts, or ask permission to see St. Patrick's Well, Gaelic Ireland's third holiest site, in the Provost's Garden. Or just drink cans at the Pav.
60. Taxi driver conversations
Okay, these are usually terrible, but there is one taxi driver in Dublin genuinely mad at the bassist from Aslan for pretending to be psychobilly in Comet Records in the 80s. Ask about it in every taxi you're in until you find him.
62. Knowing the beggar's pitch
"Excuse me, can I ask you something? I'm not a junkie or anything, I don't even drink, I'm just a few euro short for the bus back to Carlow." You've probably never even been to Carlow, mate.
63. Getting your news from the Metro Herald
Its news is simplified to the extent that it's possible to digest it at 7.30am on a jammed public transport vehicle, and it always has funny animal pictures. It's like the internet in a free newspaper.
66. The word 'grand'
Whatever it is, it doesn't need to be perfect. It just needs to be barely of sufficient quality to be fit for purpose. It'll be grand.
87. Films filmed in Dublin
Glen Hansard getting his fiver robbed in Once, Wilson Pickett's car stopping beside the band on the quays in The Commitments, the bus rolling through Finglas in Intermission. You've been to these places.
88. Pedestrianised areas
Once upon a time it was impossible to lollygag around the middle of Grafton Street without the risk of being run over by a car, but then they made it pedestrian only. Now you can move with your own pace and trajectory.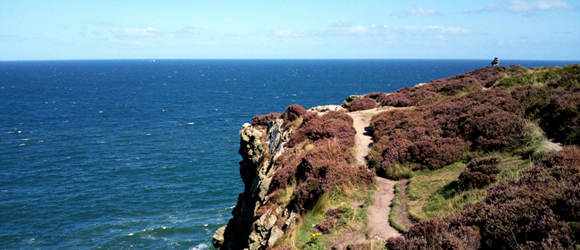 92. Howth Hill Few cities have their own little wilderness like this, punctuated by rope swings repaired a million times.
95. Dublin Bikes
The city swapped some advertising space for them, now there's shrewd thinking.
97. Temple Bar
OK sure, it's often teeming with tourists, but at least they're all kept in one place
125. Arthur's Day
We know it's a marketing scam, but it is an admittedly ingenious one, and it leads to a day of the year where every pub in the city is filled with enthusiastic people
127. Dublin Mountains
Watch the mountains in the distance on a clear day as you come southbound into town or, even better, watch the city (or the sea) from Three Rock in the mountains.
128. Grafton Street before Christmas
It's full of countryfolk and confused parents, no doubt, but only the hardest of heart could deny a certain beauty in the glint of the draped lights through foggy breath as couples walk arm-in-arm. Ahem.
139. Botanic Gardens
If you really must be in a tropical climate, the Botanic (or, colloquially, Botanical) Gardens in Glasnevin afford you the opportunity to lounge in the jungle-like glasshouses along with the cat who seems to never be awake.
140. The Ha'penny Bridge
The best way to cross the Liffey on foot, the 1816 cast-iron bridge was iconic long before Phil Lynott walked over in the Old Town video. If you can't use the Ha'penny Bridge itself, then the adjacent, boring Millennium Bridge provides a good view.
145. Seagulls
They're taking over. Whether bullying pigeons in Trinity or pretending to be ducks in Stephen's Green, seagulls have decided that tourist leftovers belong to them.
195. Dublin Zoo
OK, so your abiding memory from childhood might be squinting into the hippo pool for half an hour because they can't be arsed performing for you, but when the monkeys start messing and the penguins are Michelle de Bruining around the place, the Zoo is pretty much untouchable.
Commentaires sur 200 Reasons Not to Leave Dublin