20.04.08
Visite des docks + ajout de "très beaucoup" de photos...
INTERNET IS BACK !
Pavel and Adam changed the cable, and it works now... it was so simple ! Sometimes, the housemate is a funny movie you know, because these days, everyone was suspecting everybody to have downloaded too much, and so internet could have been shut off for that reason... basically, it was just a "physical" problem ! hihi...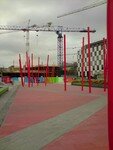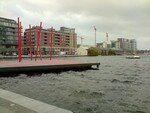 Well, now I can add all the things I wanted to add since a few days... First, yesterday, I visited the docks of Dublin. I thank there was nothing to see, it's almost true actually... Maybe in 2 or 3 years there will be so much beautiful things to see there, but presently, it's more buildings in construction rather than a pleasant area to walk through. Anyway, some areas in the docks are done, and it's very modern and gorgious (ouai ! T'as vu Laurène j'ai réussi à le caser) ! Well, enjoy the pictures of the docks in the apropriate album.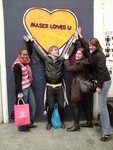 Now, let me introduce to you news frenchies ! Yeah, again... So you have Mitali, Nicolas, Maria and Elodie. But you should already know Mitali and Maria... Nicolas and Elodie are in Dublin for few weeks to do their placement. Elodie lives in a family here, so she has the chance to have a typical Irish meal everyday... or maybe she's not as lucky as that. hihi !
Anything else ? euh, yes of course ! As you know, my interview is on next Friday morning, so, if the weather is getting better during the week, I will go to visit Killiney Hill, a pleasant place in the south of the Dublin Bay, where live the rockstars and celebrities ! Maybe I'll meet some stars ! Hum... well, in April, I'm not sure actually... wait and see ! (pic : it appears that it's the U2's gate...it's amazing, isn't it ?! lol)

Finally, I added a "very lot of" pictures in the following albums :
- Docks
- St Stephen's Green
- Dublin party !
- Merrion Square
- Guinness Storehouse
- J. Jameson & Son Distillery

And below is a video made in the Mezz pub, a very nice place which reminds me the Fairfield...

Open scene in the Mezz Pub
envoyé par wiwi21
See you soon and take care !
Commentaires sur Visite des docks + ajout de "très beaucoup" de photos...