16.05.08
Vu dans le Metro !

Et oui, ici je peux lire le Metro tous les matin dans le bus, comme à Toulouse :) !
Bref, je vous ai repris certains passages d'un article sur les compétences culinaires des Irish :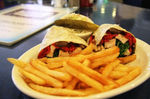 "Eight in ten adults can't boil an egg

Almost 80 per cent of people do not have the basic cooking skills to roast a chicken or even boil an egg, according to a new survey. Despite the efforts of celebrity chefs, such as Rachel Allen, Delia Smith and Nigella Lawson, many people cannot make themselves the simplest of meals, the poll of 1,500 adults for a supermaket chain food. It showed 79 per cent of adults cannot boil an egg, while 83 per cent do not know how long it takes to roast a chicken and 9 per cent think it takes less than 30mins to roast potatoes.
by Josie Clarke"
Actually, I'm not a bad cooker...
Commentaires sur Vu dans le Metro !