04.04.08
Relaxing day...
Hi everybody ! As I quit my job yesterday, and as tomorrow is the week-end, today was a relaxing day...
The shedule : pictures, Smoothies, St Stephen's Green Park and surprises ! Like this amazing sand sculpture !!!
Nothing else to tell, because my week was very... full of work !
On the other hand, I added some pics in St Stephen's Green's and Au hasard des rues's albums.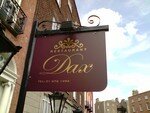 Commentaires sur Relaxing day...